One of the main concerns for small business owners is ensuring that their finances are in order to make profits and minimize risk. When it comes to protecting your business from unexpected expenses, long-term disability insurance can provide considerable peace of mind.
As a small business owner, obtaining disability insurance is slightly more complicated than it would be if you were employed because you will be required to prove that you have been profitable for at least two years. However, even those who have yet to reach profitability may be able to obtain coverage. Here is a look at what owners need to know about securing disability insurance for small businesses.
How Owners Can Get Disability Insurance For Small Businesses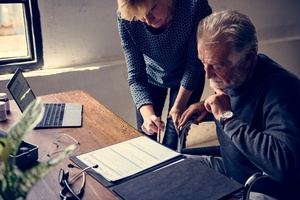 The process of obtaining long-term disability insurance begins with calculating how much you earn, how much money you would need to survive if you were to become disabled, and the amount of money that you can afford to spend on your insurance premiums.
With these calculations in mind, you can look for disability quotes and start filling out applications. This will entail filling out paperwork and conducting an interview with your insurer. You will likely be asked to undergo a paramedical exam to verify your health status.
This is where the process differs for small business owners and independent contractors compared to regular wage earners. You will be asked to show that your company has been profitable for two years or longer, which usually entails presenting two years of tax returns. The specific tax documents you will be asked to supply will depend on what type of business you operate, so ask your disability insurance provider for details.
How Can People Who Have Owned A Small Business For Less Than Two Years Obtain Coverage?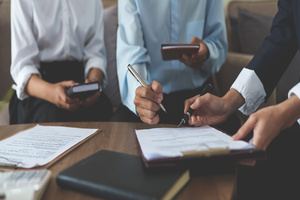 Suppose you are only in the planning stage of starting a small business and are currently employed. In that case, it is wise to purchase a disability insurance policy before quitting while still earning an income, so you do not have to wait to become eligible for long-term coverage. You will want to ensure that you choose a non-cancelable policy, as your carrier will not be allowed to raise your premiums if you keep paying them. In contrast, a guaranteed renewable policy is a good idea as it stops the insurer from changing your coverage.
However, suppose you have already started a business but have yet to hit the two-year mark. In that case, you may be able to obtain disability coverage in certain circumstances, such as if your company operates in the same industry as your previous job or you have signed contracts proving the future income that you can use as the basis for your coverage amount instead of tax returns.
Exceptions may also be made for those starting businesses with a high-income potential, such as dentists, doctors, engineers, architects, CPAs, and attorneys. Confident students working on a degree to enter a high-earning profession may also be eligible, such as MBA, medical students, or residents.
Offering Disability Insurance To Your Small Business's Employees
Short-term disability covers disabilities that require a short time away from work, typically three to six months, and can offer as much as 80 percent of the recipient's gross monthly earnings. However, there is often a cap on what the plan will cover, such as a dollar amount of income per week, and there may be an elimination period during which employees must wait for coverage to kick in.
Businesses can offer it as an employer-provided benefit, or individuals can purchase it independently. Many small companies that provide this type of coverage modify the cost share to work with their budget.
Although employers are not required to offer their employees long-term disability insurance, it is an excellent benefit to offer that can serve as an effective recruitment and employee retention tool. Many employees appreciate the peace of mind that comes from knowing they will be able to bring in some income should they be unable to work for an extended period as a result of an accident, illness, disability, or injury.
However, it is essential to keep in mind that this is different from workers' compensation insurance, which is required for businesses of all sizes in nearly every state. Workers' compensation protects against injuries and illnesses related to work. At the same time, disability insurance covers those that occur outside of the workplace and covers medical expenses related to the issue, in addition to replacing a portion of lost wages.
Contact The Employee Benefits Professionals
There are many options available that can benefit your small business. To learn more about how owners can obtain disability insurance for small businesses, reach out to the employee benefits professionals at Vector Benefits to set up a time to discuss your options.